May Day 2023 to see rallies and marches across Southern California in support of workers
Southern California gears up for May Day 2023 with rallies, marches, and demands for worker rights and social justice.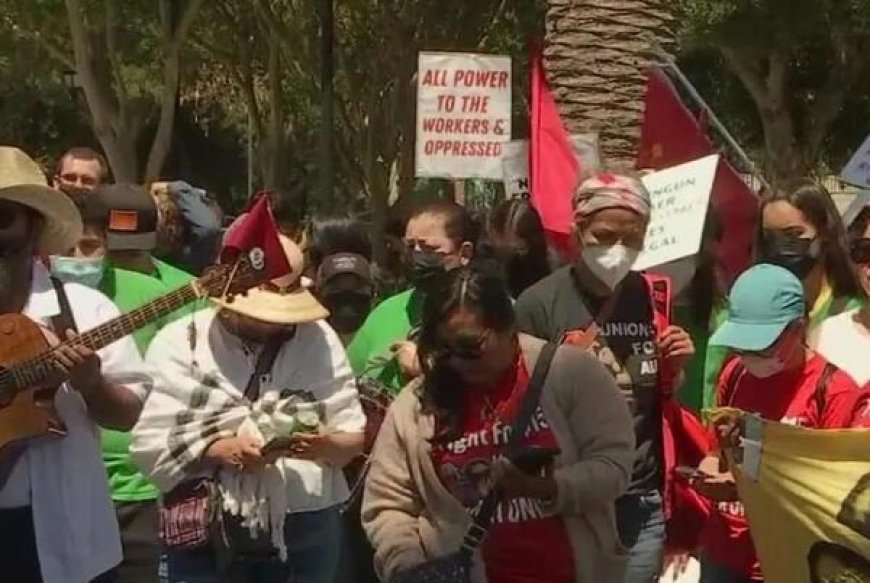 May Day 2023 rallies and Marches | Image Credit: NewsBreak
Several rallies and marches are set to take place on May 1 in Los Angeles, Little Tokyo and Boyle Heights, in celebration of International Workers Day or May Day. The event, which dates back to the 19th century, has a long-standing tradition of protests and demonstrations.
The Los Angeles May Day Coalition has organized two events, the first at 5 a.m. in downtown LA, followed by a march starting at 5 p.m. from Olympic Boulevard and Broadway. The rally is set to feature several speakers, and the marchers will proceed to Pershing Square, then Grand Park in front of City Hall.
The march will feature the theme of "Solidarity is Power," which aims to bring attention to the right to citizenship, unionize, strike, and housing. The coalition, which comprises various labor unions, organizations, and political parties, including the Democratic Socialists of America and the Communist Party USA, will be participating in the march.
Revolution Club LA will conduct a protest at First Street and Central Avenue in Little Tokyo, advocating for no U.S. NATO war with Russia and to stop the U.S. from threatening China.
May Day Boyle Heights will begin with a rally at the intersection of Mathews Street and Cesar Chavez Avenue in Boyle Heights at 4:30 p.m. and followed by a march. The march will stop at the Hollenbeck Community Police Station, where a protest will be held. The march will conclude at Mariachi Plaza, where another program is scheduled.
The event is organized by Centro CSO, whose demands include the legalization of those who have entered the U.S. without authorization, protecting public education, and community control over the Los Angeles County Sheriff's Department.
May Day rallies and protests have been taking place since 1890, honoring the anniversary of the Haymarket affair, which occurred on May 4, 1886. The protest ended with a dynamite bomb being thrown at police officers and resulting in the deaths of seven police officers and at least four civilians. Eight anarchists were convicted of conspiracy, with seven sentenced to death, and one to 15 years in prison. Illinois Governor John Peter Altgeld later pardoned the remaining defendants in 1893, criticizing the trial as unfair.
Read Also: Labour Day 2023: Date, History, Significance, and Country-Wise Celebration