Live: Latest Update on JPMorgan Chase's Takeover of First Republic Bank
Live News Updates: JPMorgan Chase acquisition of First Republic's assets causes market fluctuations and raises concerns about the economy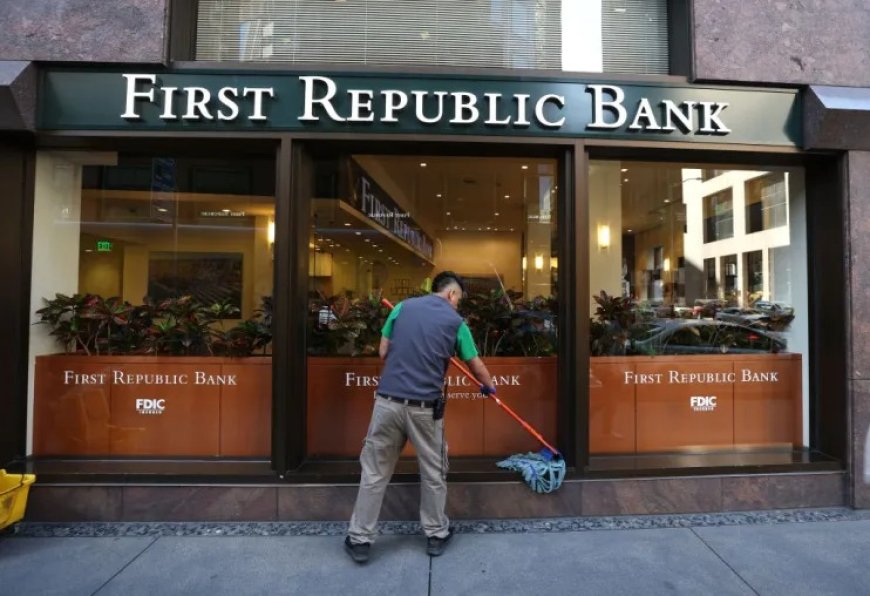 PMorgan Chase's Takeover of First Republic Bank | Image Credit: Getty Image
On Monday, news broke that JPMorgan Chase is set to acquire a majority stake in First Republic Bank, marking one of the largest bank failures in US history. The announcement comes after a weekend of negotiations, and while futures were initially flat following the news, JPMorgan Chase shares rose around 3%. Meanwhile, First Republic's stock fell 43%, leading to a brief halt in trading. The markets are now processing the news of this significant acquisition.
Here's what we're covering in this live blog: the latest updates on the JPMorgan Chase takeover of First Republic Bank. Stay tuned for breaking news, expert analysis, and market reactions as they unfold.
Key Moments
JPMorgan Chase buys most of First Republic's assets from FDIC
Stock market mixed as JPMorgan Chase shares rise, while First Republic's stock plummets
JPMorgan Chase CEO reassures shareholders that banking tumult is contained
---
The Treasury expressed its positive outlook regarding the resolution of First Republic and the protection of its depositors.

United States Treasury officials expressed relief on Monday as JPMorgan Chase announced its acquisition of most of First Republic Bank, which had suffered a collapse. While the bank's failure is alarming, it was resolved in a way that protected all depositors and incurred the least cost to the Deposit Insurance Fund, according to a Treasury spokesperson. It is the second-largest bank failure in US history, with the FDIC estimating a cost of around $13 billion for its deposit insurance fund. Despite this, US officials maintain confidence in the soundness and resilience of the banking system, which remains capable of providing credit to businesses and families.

First Republic Bank's dependence on affluent clients was a major factor in its downfall.

First Republic Bank, the latest US lender to fail, was seized by the Federal Deposit Insurance Corporation and taken over by JPMorgan Chase due to its reliance on wealthy clients. The collapse of three US banks in two months started with Silicon Valley Bank in March, causing a panic among investors and depositors. As First Republic catered to a similarly wealthy client base, it quickly became a target after the failure of SVB, contributing to the banking turmoil.

JPMorgan Chase to Reopen First Republic Branches Under Its Name

On Monday, JPMorgan Chase completed its takeover of First Republic Bank, which had been seized by the Federal Deposit Insurance Corporation (FDIC) six weeks ago. The FDIC said that deposits at First Republic will continue to be insured, and customers don't need to change their banking relationship to maintain their deposit insurance coverage.


First Republic, which had assets worth $229.1 billion as of April 13, is known for catering to wealthy clients in coastal states. As of the end of last year, it was the 14th-largest bank in the country, with about 7,200 employees.


JPMorgan Chase is the largest bank in the US, with total global assets of nearly $4 trillion as of March 31. The First Republic acquisition adds 84 branches in eight states, including high-income communities such as Beverly Hills, Brentwood, Santa Monica, and Napa Valley, California, as well as Palm Beach, Florida; Greenwich, Connecticut; Bellevue, Washington; and Jackson, Wyoming.


The acquisition comes amid a series of bank failures in the US. First Republic is the third bank to fail in two months after the collapse of Silicon Valley Bank in March and Gold Coast Bank in April. Despite these failures, US officials have stressed their confidence in the resilience of the banking industry, and customers can still rely on the safety of their deposits and the ability of the banking system to provide credit to businesses and families.

What's next for First Republic employees after JPMorgan Chase takeover?

When a bank fails and is taken over by the FDIC, the employees are typically kept on to facilitate the transition, with the FDIC paying their salary and benefits. This is done to ensure continued customer service and access to deposits during the resolution process. However, since JPMorgan Chase has acquired First Republic, it will ultimately decide whether to retain the bank's employees.

Read Also: Regulators rush to find buyer for embattled First Republic Bank

JPMorgan Chase to pay $10.6 billion to FDIC in acquisition of First Republic Bank

JPMorgan Chase has acquired most of the failed regional bank First Republic for $10.6 billion. The acquisition includes $173 billion of loans and $30 billion of securities from First Republic. In addition, the FDIC has agreed to provide a $50 billion five-year fixed-rate term financing as part of the transaction. Although the takeover was only announced on Monday, the transaction has already closed and all regulatory approvals have been received. JPMorgan stated that it will not take on First Republic's corporate debt or preferred stock. The FDIC is sweetening the deal for JPMorgan by agreeing to limit the bank's downside. The FDIC will provide loan share agreements on most acquired loans, including 80% loss coverage for seven years on single-family residential mortgages. The FDIC has also agreed to 80% loss coverage for five years on commercial loans, including commercial real estate. The acquisition of First Republic will increase JPMorgan's exposure to affluent Americans. First Republic catered to wealthy clients and had branches in Hollywood, Palm Beach, and Greenwich, Connecticut. JPMorgan stated that the deal "increases penetration with US high net worth clients" and accelerates its wealth strategy.

The White House to face ongoing banking challenges despite First Republic deal

A new partnership between the US government and the financial industry aims to prevent future bank failures from causing wider economic crises. However, this intervention in the sale of First Republic Bank highlights concerns about the overall health of the US banking sector, which has been hit by a series of crises due in part to the Federal Reserve's rate hikes to combat inflation.

These challenges are creating political headaches for the Biden administration, as inflation remains high and worries about the banking sector mount. While the administration has denied accusations of a bailout for wealthy banking executives, opponents are quick to make this charge and it is difficult for the White House and Treasury Department to refute.

Nevertheless, allowing the First Republic to fail could have had even more damaging consequences for the economy and the administration's political prospects. The situation underscores the delicate balance that must be struck between protecting depositors and avoiding the appearance of a bailout, while also addressing concerns about the banking sector's stability.