US Home Building Surges Past Expectations in July Amidst High Demand for New Homes
US home building exceeded forecasts in July due to rising demand for new homes. Learn about housing market trends and driving factors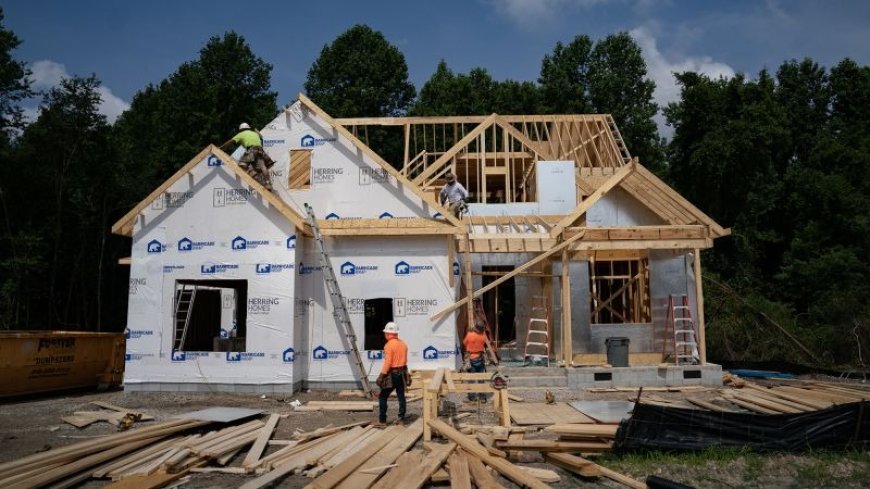 US Home Building Surges Past Expectations in July Amidst High Demand for New Homes
US home builders accelerated construction activities in July, marking a 3.9% increase from June. The ongoing scarcity of available homes in the existing real estate market continues to drive interest towards new home purchases.
Housing starts, a metric gauging new home construction, soared to a seasonally adjusted annual rate of 1.452 million during the month, surpassing market predictions of 1.448 million. The recent data release from the Commerce Bureau on Wednesday revealed a 5.9% upswing in units started compared to July 2022.
Notably, single-family housing starts, constituting the majority of construction, surged by 6.7% in July from the revised June figure, clocking in at a seasonally adjusted annual rate of 983,000.
Midwest and West Regions Experience Uptick in Construction
The new residential construction trend shines a spotlight on a housing market where potential buyers are seeking affordable housing solutions amidst elevated home prices and mortgage rates. George Ratiu, Chief Economist at Keeping Current Matters, a real estate market insights firm, stated that buyers are turning to new homes as a welcome alternative amid the ongoing scarcity of existing homes.
The initial months of 2023 saw homebuilders scaling up production and offering incentives in response to the surging demand, primarily in the single-family segment. Completed homes, however, witnessed an 11.8% dip from June and marked a 5.4% drop compared to the previous year. The construction of single-family homes picked up pace in the Midwest and West regions.
Building permits, responsible for tracking the number of granted permits for new housing units, saw marginal growth in July, inching up by 0.1% to a seasonally adjusted annual rate of 1.442 million. However, permits experienced a 13% decline compared to the prior year.
Elevated Demand Boosts New Residential Construction
Kelly Mangold of RCLCO Real Estate Consulting noted that the scarcity of resale inventory is significantly benefiting the new home market. Buyers, motivated by favorable pricing and offerings such as mortgage buydowns from prominent builders, are shifting towards new home purchases.
While the marginal rise in starts signals some optimism among builders, concerns loom over the impact of future mortgage rate increases on the market. Mangold further highlighted that homeowners are opting to upgrade their existing properties rather than seek larger homes due to high housing mobility costs.
Although mortgage rates are hovering around 7%, and some builder traffic has slowed, builder sentiment had been on an upward trajectory this year until August. The National Association of Home Builders/Wells Fargo Housing Market Index, released recently, revealed a slight decline in builder confidence due to factors like elevated mortgage rates, construction costs, material shortages, and lack of buildable lots.
Home builder stocks received a boost recently after Warren Buffett's Berkshire Hathaway revealed new stakes in Lennar, D.R. Horton, and NVR. The filing signaled a strong bet on the growth potential of US home builders.
Also Read: Manhattan Rental Market Hits New Heights with Third Consecutive Record