Wall Street Surges: Tesla Leads Megacap Rally; Focus Shifts to Upcoming Inflation Data
Wall Street gained momentum driven by Tesla's remarkable surge. Get insights on the awaited inflation figures and their impact on the Federal Reserve's interest-rate strategy.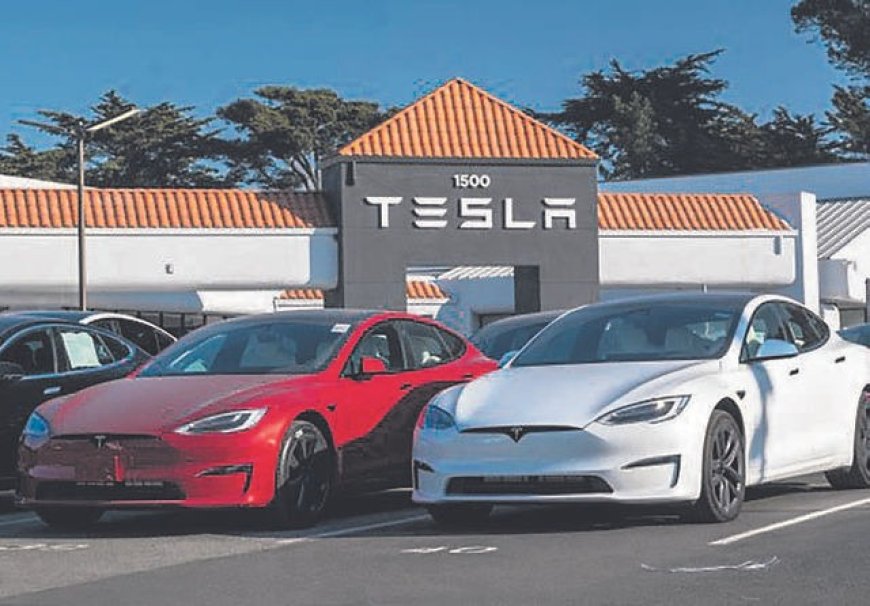 Wall Street Surges: Tesla Leads Megacap Rally; Focus Shifts to Upcoming Inflation Data
The stock market saw an uptick, buoyed by a notable surge in Tesla shares, as investors keep a close watch on forthcoming inflation figures, offering insights into the trajectory of U.S. Federal Reserve's interest rates.
Tesla Charges Ahead: Morgan Stanley's Bullish Call
Tesla witnessed a robust 5.8% surge after Morgan Stanley upgraded its rating from "equal-weight" to "overweight". The move was attributed to Tesla's groundbreaking Dojo supercomputer, with analysts suggesting it could potentially elevate the company's market value by nearly $600 billion.
Megacaps in the Green: Alphabet, Microsoft, and Amazon Lead
Notable tech giants including Alphabet, Microsoft, and Amazon also experienced gains, ranging between 0.4% and 1.1%, contributing to the positive momentum.
Consumer Discretionary Stocks Spearhead S&P 500 Gains
Consumer discretionary stocks within the S&P 500 took the lead, showing an impressive 1.6% rise, driving the overall positive performance.
Awaiting Key Economic Indicators: Consumer and Producer Prices, Retail Sales Data
Market participants eagerly anticipate crucial economic data, including consumer and producer prices, as well as retail sales figures scheduled for release later in the week.
Inflation Outlook: Balancing Act for the U.S. Economy
Wednesday's consumer price data will serve as a litmus test for whether the U.S. economy is headed towards a "soft landing". This scenario would potentially provide the Federal Reserve with the opportunity to curb inflation without causing significant disruptions to economic growth.
Expert Insight: Hugh Anderson's Projections
According to Hugh Anderson, Managing Director at HighTower Advisors, "The inflation numbers should be expected to be at least flat if not higher and most likely slightly higher as compared to the continued decline we've seen since last year... I expect at least one more increase, but this is at best. Certainly no cuts, and I don't expect to see cuts for quite some time until we see a dramatic decline in employment."
Market Sentiment and Rate Expectations
Traders currently estimate a 93% likelihood of the central bank maintaining interest rates at their current levels in the September meeting. The odds of a pause in November stand at nearly 61%, as per the CME FedWatch Tool.
Treasury Yields and the Fed's Blackout Period
On Monday, Treasury yields experienced a marginal uptick, with the 2-year note, regarded as a key indicator of short-term interest rate expectations, hovering around 4.9948%. Fed officials have entered a "blackout period", during which they typically refrain from making public statements, until the policy decision announcement on Sept. 20.
Market Indices at a Glance
As of 9:47 a.m. ET, the Dow Jones Industrial Average showed a gain of 156.55 points (0.45%) at 34,733.14, the S&P 500 was up by 19.46 points (0.44%) at 4,476.95, and the Nasdaq Composite had risen by 71.42 points (0.52%) to 13,832.94.
Other Notable Moves in the Market
Qualcomm advanced 3.6% after inking a new deal with Apple to supply 5G chips until at least 2026.

Hostess Brands surged 18.8% following J. M. Smucker's announcement of a $5.6 billion acquisition deal.

Meta Platforms saw a 1.8% increase after reports surfaced of the company working on a more potent artificial intelligence system.
Market Performance Metrics
Advancing issues surpassed decliners by a ratio of 3.46-to-1 on the NYSE and 2.01-to-1 on the Nasdaq. The S&P index recorded 10 new 52-week highs and five new lows, while the Nasdaq recorded 14 new highs and 46 new lows.
Also Read: Asian Stock Markets: Mixed Performance Amid US Inflation and China's Economic Data