French Apple Store Employees Stage Strike on iPhone 15 Launch Day
Demonstrating fair pay and improved work conditions, Apple employees staged a nationwide strike.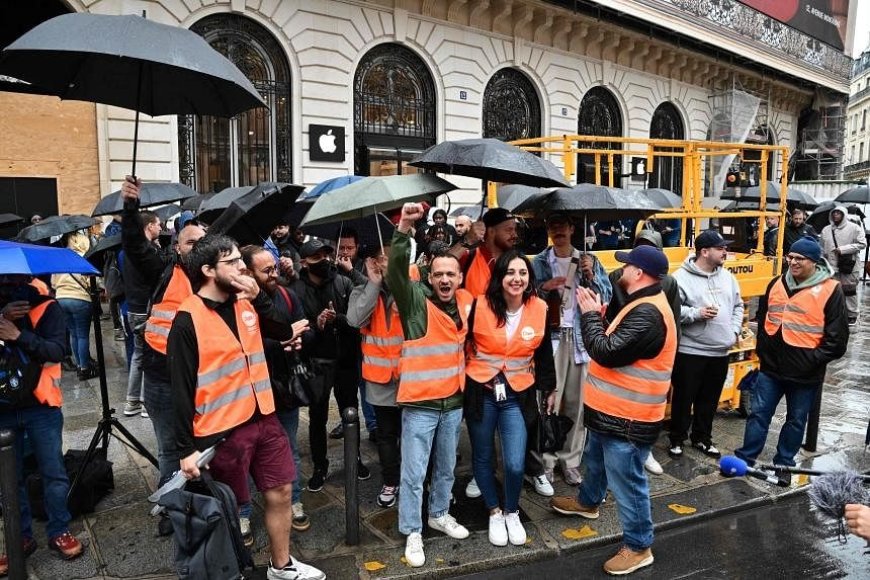 French Apple Store Employees Stage Strike on iPhone 15 Launch Day
As the much-anticipated iPhone 15 hit the shelves, Apple employees across France took a stand, demanding better wages and improved working conditions.
This adds to the list of challenges faced by the tech giant in France, following the recent suspension of iPhone 12 sales due to radiation levels exceeding regulatory limits. Apple contests the findings of the French regulatory authority.
Around 30 workers gathered outside the central Paris Opera store, one of three in the city, just steps away from a queue of approximately 40 eager customers, waiting in the rain.
Anais Durel, a 36-year-old with a decade-long tenure at Apple, voiced her sentiments, stating, "We are the ones responsible for Apple's success, and therefore, we believe we deserve more dignified treatment than what we currently receive."
Apple chose not to issue a statement on the matter
Apple-affiliated unions including CGT, Unsa, CFDT, and Cidre-CFTC, who also plan to strike on Saturday, have called for a 7% wage increase to counteract inflation, and an end to a months-long hiring freeze. Management, however, has been hesitant to offer more than a 4.5% raise, according to union representatives.
"Inflation continues to be a significant concern. Many employees are facing difficulties," remarked Tarek, a CGT union leader who opted to withhold his last name.
He emphasized, "The goal is by no means to hinder iPhone sales; it is primarily to draw attention to this situation."
Meanwhile, employees at an Apple store in Barcelona, where roughly 250 individuals were in line to enter the store on Friday morning, showed solidarity with their French counterparts in protest.
Around midday, about 20 employees established an informational picket outside the Paseo de Gracia store in central Barcelona, as revealed by Pablo Paredes, leader of the CNT Apple union, in an interview with Reuters.
Paredes highlighted that the workers aim to shed light on subpar working conditions, including contracts that fail to provide adequate compensation for weekend and night shifts.
It's worth noting that CNT is a minority union and is active in only one of Barcelona's two stores. As of now, the union has not secured a meeting with the company to formally address its grievances, Paredes stated.
"We've been in contact with our striking colleagues in France since August. In Spain, unlike them, not all unions have reached a consensus on striking," added Paredes.
Also Read: Apple Watch Series 9: A Game-Changer in Wearable Tech