G20 Summit 2023: New Delhi Geared Up to Host World Leaders for Crucial Global Conference - Live Updates
G20 Summit New Delhi Live Updates: This grand gathering signifies the conclusion of India's year-long presidency in the G20.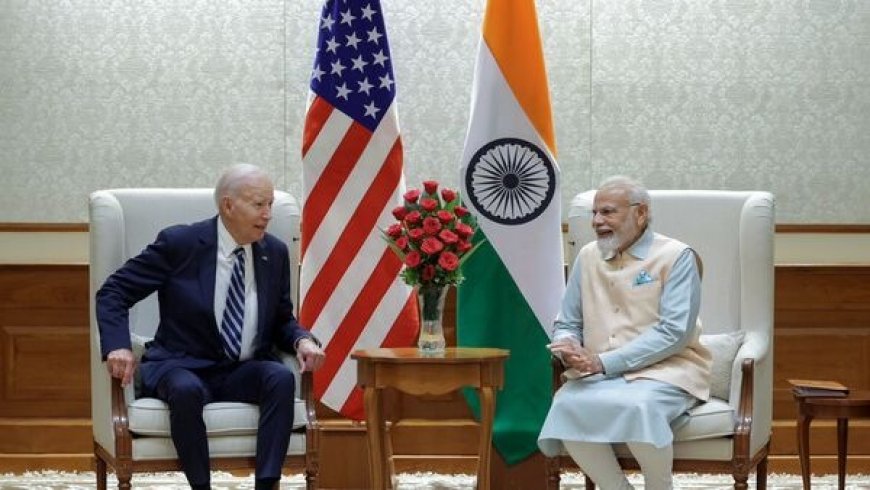 PM Narendra Modi engages in bilateral discussions with US President Joe Biden at 7, Lok Kalyan Marg, New Delhi. Source: (PMO India Twitter)
New Delhi, India: is all set to host the G20 Summit on September 9-10, where leaders from across the globe will convene for crucial deliberations. The national capital has meticulously prepared to welcome heads of state and their delegations. Prime Minister Narendra Modi is slated to extend individual welcomes to leaders at the recently inaugurated Bharat Mandapam in Pragati Maidan. On Saturday, a lunch will be hosted, followed by a grand dinner by the President.
This summit is the culmination of India's year-long G20 presidency, providing nations a platform to articulate their commitments in addressing global challenges. The G20 comprises Argentina, Australia, Brazil, Canada, China, France, Germany, India, Indonesia, Italy, Japan, Republic of Korea, Mexico, Russia, Saudi Arabia, South Africa, Turkey, United Kingdom, United States, and the European Union.
G20 Summit 2023: Key Developments and Agenda:
The G20 Summit 2023 saw significant milestones and discussions. The African Union was welcomed as a new member by Indian Prime Minister Narendra Modi, marking an important inclusion.
Distinguished figures like UN Secretary General Antonio Guterres, IMF Managing Director Kristalina Georgieva, and WTO Director General Ngozi Okonjo-Iweala were early arrivals, highlighting the global importance of the summit.
India's sherpa, Amitabh Kant, mentioned that the New Delhi Leaders' Declaration, a crucial document representing consensus, is near completion. This declaration will emphasize the voices of developing nations and the global south.
Prime Minister Narendra Modi engaged in bilateral talks with Bangladesh's Prime Minister Sheikh Hasina, resulting in the signing of three significant memorandum of understandings (MoUs), including one on Digital Payment mechanisms.
US President Joe Biden's arrival in New Delhi marked his participation in the G20 Summit. He, along with Treasury Secretary Janet Yellen, held a closed-door meeting with PM Modi.
The Quad, consisting of India, US, Japan, and Australia, has been actively working towards ensuring a free and open Indo-Pacific region in response to China's growing military presence.
Prime Minister Narendra Modi announced the consensus on the New Delhi G20 declaration, which will be universally adopted. Amitabh Kant, India's G20 Sherpa, outlined the focus areas:
Achieving Strong, Sustainable, Balanced, and Inclusive Growth

Accelerating Progress on Sustainable Development Goals (SDGs)

Establishing a Green Development Pact for a Sustainable Future

Reforming Multilateral Institutions for the Modern Era

Revitalizing Multilateralism
The inclusion of the African Union as a G20 member was a significant moment facilitated by Prime Minister Narendra Modi.
Get the Latest News from the G20 Summit in Delhi Right Here - Follow iShook Finance's Live Blog:
Key Moments
Venue: G20 Summit 2023 in Delhi's Bharat Mandapam.
Members: G20 has 43 members, 19 countries plus the EU.
Leaders Present: Biden, Sunak, Salman, and more.
Notable Absences: Putin, Xi, and others uncertain.
Special Guests: Hasina, Banga, and global leaders.
Theme: "One Earth, One Family, One Future".
---
Accommodations of Global Leaders: G20 Summit 2023 in Delhi

The Group of 20 (G20) major economies' leaders are gathering in New Delhi to tackle critical global issues.

Australian PM Anthony Albanese's Accommodation

The Imperial Hotel of New Delhi Welcomes the Prime Minister.

Rishi Sunak's First Visit to India as UK Prime Minister

Rishi Sunak, the Prime Minister of the United Kingdom, is going to India for an important meeting called the G20 Summit. This is his first official trip to India in his role as Prime Minister.

Where Rishi Sunak Will Stay?

When he's in India, Rishi Sunak will stay at a place called the Shangri La hotel. It's a nice hotel where important guests like him often stay.





Canada PM Justin Trudeau's Trip to Indonesia and India

The Prime Minister of Canada, Justin Trudeau, is going on a trip. First, he will visit Indonesia to take part in an important meeting called the ASEAN summit. After that, he will come to New Delhi, India.

Where Justin Trudeau Will Stay?

When he's in New Delhi, Justin Trudeau will stay at a hotel called The Lalit. It's a nice place where important guests like him often stay.





China's Delegation and Who Leads It?

China is sending an important group of people to the G20 Summit in India. Premier Li Qiang will be in charge of this group. This tells us that President Xi Jinping won't be there, which means he won't have a chance to meet with President Biden from the United States.

Where China's Delegation Will Stay?

When they're in Delhi, the capital of India, the Chinese delegation will stay at a famous hotel called the Taj Hotel. It's a well-known place where important guests often stay.





US President Joe Biden

US President Joe Biden will be staying at the ITC Maurya during his visit to India for the G20 Summit. The ITC Maurya is a well-known hotel in New Delhi, the capital city. This is where he'll be staying while he attends important meetings with leaders from around the world.