Israeli Markets React to Hamas Attack: Stocks Decline, Businesses Close
Israeli markets react to devastating Hamas attack. Stocks and businesses affected. International flights suspended. Ongoing conflict updates.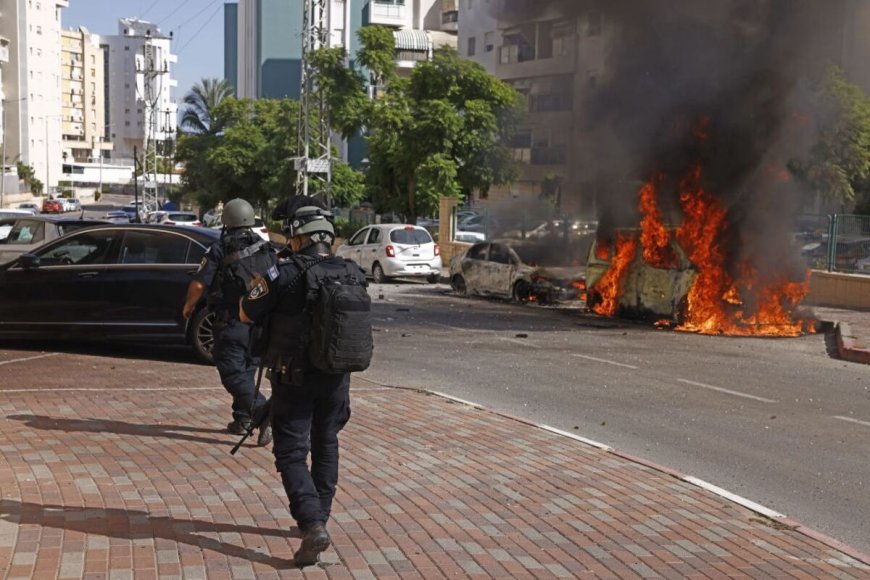 Israeli Markets React to Hamas Attack: Stocks Decline, Businesses Close
Israeli financial markets faced a significant downturn on Sunday, and numerous businesses shut their doors in the aftermath of a devastating attack by Hamas militants from Gaza. The assault resulted in the loss of hundreds of lives, with an unknown number of individuals taken captive.
Key stock indices in Tel Aviv experienced a drop of up to 7%, while government bond prices fell by as much as 3% in the immediate aftermath of one of the bloodiest incidents in Israel's recent history.
Although the foreign exchange market remains closed on Sundays, the shekel's value has already hit a year-low due to a highly debated government proposal to reform the judiciary.
Jonathan Katz, Chief Economist at Leader Capital Markets, commented, "This bout of violence is anticipated to be more prolonged and severe than previous ones, undoubtedly exerting a more adverse influence on the economy and the fiscal budget."
He further added, "The shekel will likely experience a sharp decline tomorrow, and we see a high likelihood that at some point, the Bank of Israel will intervene in the foreign exchange market."
Hamas gunmen launched a rampage through Israeli towns on Saturday, resulting in the tragic loss of at least 400 Israeli lives, along with the abduction of numerous hostages, before retreating to Gaza.
Israel responded with airstrikes targeting Hamas positions in Gaza. Simultaneously, militants from Gaza launched thousands of rockets into Israel, some reaching as far as Tel Aviv, leading to the suspension of flights to and from Israel by various airlines.
Finance Minister Bezalel Smotrich stated that he had instructed department heads to swiftly allocate the necessary budgets for managing the ongoing conflict.
AIR TRAVEL DISRUPTIONS
Delta Air Lines announced cancellations of flights from Israel to New York and Atlanta through Monday, while United Airlines revealed that "future operations at TLV (airport) will be suspended until conditions allow them to resume." Air India stated that flights to and from Tel Aviv would be halted until Oct. 14.
United Airlines' smaller competitor Arkia confirmed that it was conducting rescue flights from Athens to repatriate Israelis who had been on vacation.
Another competitor, Israir, reported that it was operating rescue flights from Larnaca in Cyprus, but cautioned that it might operate on a reduced schedule in the coming days as some foreign crew members on its leased aircraft had requested to leave Israel.
Nvidia, the world's leading manufacturer of chips used in both artificial intelligence and computer graphics, announced the cancellation of its AI summit in Tel Aviv next week, where CEO Jensen Huang was scheduled to speak.
Schools were closed, and many companies granted their employees the day off. Most stores, except supermarkets and pharmacies, remained closed.
The Israeli Manufacturers' Association assured that factories were still in operation despite the state of emergency to ensure there was no fear of a shortage of food and other essential products.
Ron Tomer, President of the association, affirmed, "All companies will continue to operate as much as possible despite the difficult emergency conditions, the rocket barrages, and the resulting shortage of workers." He added, "Thanks to Israel's production independence... even in times of emergency, the residents of Israel will lack nothing."
Intel Corp, Israel's largest employer and exporter, refrained from commenting on whether chip production was impacted.
"We are closely monitoring the situation in Israel and taking steps to safeguard and support our workers," a spokesman stated.
Tower Semiconductor confirmed that it was operating without disruptions.
Also Read: General Motors Records Impressive 21% Surge in Third-Quarter US Sales