White House and Republicans Aim to Reach Agreement on US Debt Ceiling as Deadline Approaches
White House and Republicans negotiate US debt ceiling deal as deadline nears. Explore the potential consequences and urgent need for bipartisan agreement.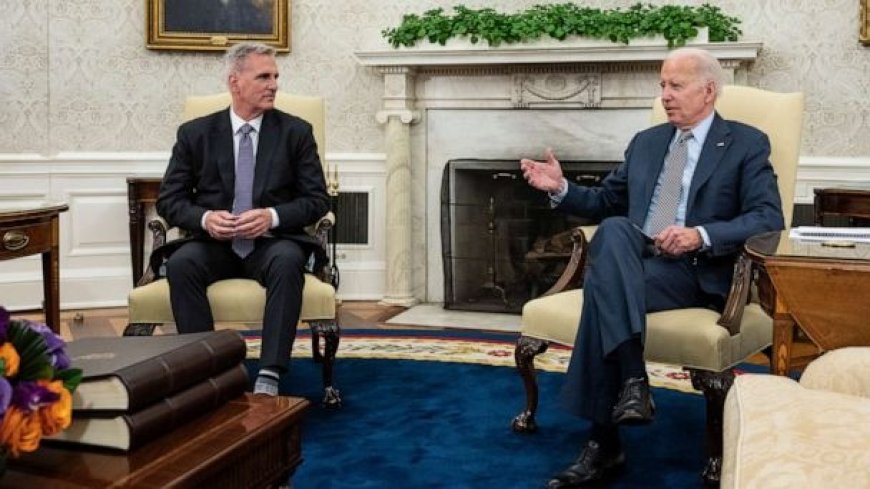 President Joe Biden engages in debt limit discussions with House Speaker Kevin McCarthy at the White House in Washington, D.C.
Negotiations are set to resume today between the White House and congressional Republicans as they work towards a deal to increase the US government's debt ceiling. With just a week remaining before a potential catastrophic default, Democratic President Joe Biden and House Speaker Kevin McCarthy, a Republican, find themselves at odds over spending, taxes, and work requirements for anti-poverty programs. Nevertheless, both sides express optimism that they can find common ground following productive discussions held by their respective negotiating teams on Wednesday.
McCarthy, the leading Republican in Congress, stated during a press briefing that they will continue working towards a solution after his team concluded a four-hour meeting at the White House.
Time is of the essence as the Treasury Department warns that the United States could run out of funds to meet its financial obligations as early as June 1, just seven days from now, if the debt ceiling is not raised. A default by the US could have severe consequences, including disrupting global financial markets and potentially pushing the country into a recession.
On Wednesday, credit rating agency Fitch announced that it had placed the United States' "AAA" credit rating on negative watch due to escalating political disputes concerning the nation's debt limit. Fitch had previously taken similar action in October 2013.
Fitch stated in its announcement, "The brinkmanship over the debt ceiling, failure of the US authorities to meaningfully tackle medium-term fiscal challenges ... and a growing debt burden signal downside risks to US creditworthiness."
The prolonged standoff has raised concerns on Wall Street, causing a decline in US stocks and an increase in borrowing costs for the nation.
Passing any agreement through the Republican-controlled House and the Democratic-controlled Senate will require several days. It is customary for lawmakers to raise the self-imposed debt limit to cover the expenses of already approved spending and tax cuts.
Representative Steve Scalise, the second-ranking House Republican, stated that members of the House will be given three days to review any debt-ceiling bill before casting their vote. In the Senate, a single member can delay action for days.
Although the House was scheduled to begin a week-long Memorial Day holiday recess on Thursday, Scalise warned lawmakers to be prepared for a recall vote if necessary.
McCarthy has emphasized that any deal must include cuts to discretionary spending next year and impose limits on spending growth in the future to curb the growth of US debt, which currently matches the nation's annual economic output.
Biden has proposed a spending freeze at current levels for the next year and suggested several tax increases to address the debt issue.
Moody's, another credit rating agency, has indicated that it may reconsider its highest rating for the US government if lawmakers fail to reach an agreement. A previous debt-ceiling standoff in 2011 prompted S&P Global, a rival ratings agency, to downgrade the country's rating.
Both parties' lawmakers are hesitant to compromise. Hardline House Republicans insist that Biden must accept the significant spending cuts they passed last month, while some Democrats accuse Republicans of holding the economy hostage to push their own agenda.
During a news conference on Wednesday, Democratic Representative Ilhan Omar criticized the opposition, saying, "They are looking to waste time, play games, and ensure we default because they think that somehow that is going to be a political advantage."
Biden initially maintained that he would not engage in negotiations regarding the debt limit, but he subsequently changed his stance and initiated talks with McCarthy in recent weeks.
The last time the federal government came close to default was in 2011, during a similar power dynamic in Washington—a Democratic president, a Senate majority, and a Republican-controlled House.
Also Read: The Richness Puzzle: Why $100,000 Earners Don't Always Feel Wealthy