PayPal Launches Dollar-Pegged Stablecoin: Seamless Payments in the Crypto Sector
PayPal introduces its dollar-pegged stablecoin, PayPal USD, backed by US Treasuries, enabling secure and seamless digital payments. Explore its features and upcoming integration on the Ethereum blockchain and Venmo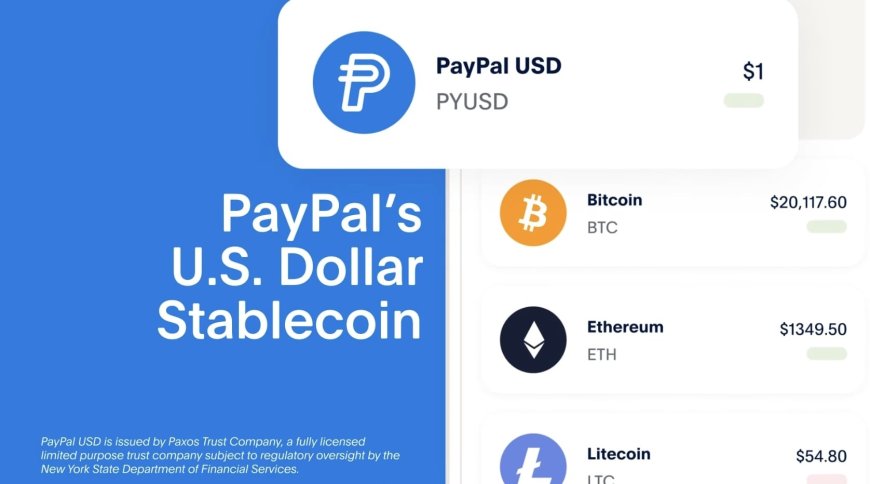 PayPal Launches Dollar-Pegged Stablecoin: Seamless Payments in the Crypto Sector
PayPal has announced the launch of its own dollar-pegged stablecoin, PayPal USD, backed by a combination of US Treasuries, US dollar deposits, and cash equivalents. The stablecoin will be issued by Paxos Trust Co., ensuring transparency through regular reserve reports and third-party attestation. Users can transfer, convert, and make purchases with PayPal USD, enhancing the company's existing crypto offerings. PayPal CEO Dan Schulman believes the stablecoin will play a pivotal role in the firm's payment infrastructure. The stablecoin will be issued on the Ethereum blockchain, making it accessible to a wider community of developers and wallets, and will soon be available on Venmo.
Summary:
In a major step towards embracing the world of cryptocurrencies, PayPal, a leading global payments giant, has unveiled its very own dollar-pegged stablecoin, aiming to provide a secure and seamless digital payment solution. Named "PayPal USD," this stablecoin is backed by a combination of short-term US Treasuries, US dollar deposits, and cash equivalents, ensuring its stability and reliability.
Key Points:
Easily move PayPal USD between your PayPal account and other supported external wallets.
Send quick person-to-person payments using PYUSD.
Use PayPal USD to pay for your purchases by simply selecting it at checkout.
Convert any of PayPal's supported cryptocurrencies to or from PayPal USD with convenience.
Today, we're unveiling a new stablecoin, PayPal USD (PYUSD). It's designed for payments and is backed by highly liquid and secure assets. Starting today and rolling out in the next few weeks, you'll be able to buy, sell, hold and transfer PYUSD. Learn more https://t.co/53RRBhmNHx pic.twitter.com/53ur2KmjU7

— PayPal (@PayPal) August 7, 2023
Issuance and Transparency:
Paxos Trust Co. will act as the facilitator for the issuance of the PayPal USD stablecoin, promising transparency by publishing monthly Reserve reports beginning in September 2023. In an effort to further boost confidence in the stablecoin's backing, Paxos will also provide a public third-party attestation of the reserve assets supporting PayPal USD.
Integration with Existing Offerings:
One of the key advantages of PayPal USD is its seamless integration with PayPal's existing cryptocurrency offerings. Users will be able to effortlessly transfer funds between their PayPal accounts and external wallets using this stablecoin. Additionally, the stablecoin enables easy conversion to cash or other supported cryptocurrencies and can be used for making purchases. The value of PayPal USD remains pegged at a 1:1 ratio with the US dollar, ensuring straightforward and reliable conversions.
PayPal CEO's Perspective:
Dan Schulman, the CEO of PayPal, emphasized the significance of having a stable digital instrument that seamlessly connects with traditional fiat currencies, particularly the US dollar, amidst the surging popularity of digital currencies. Schulman expressed confidence in PayPal's commitment to responsible innovation and compliance, stating that these principles form a strong foundation for facilitating the growth of digital payments through the launch of PayPal USD. He also highlighted the stablecoin's significant role in enhancing PayPal's overall payment infrastructure.
Ethereum Blockchain Integration:
To expand the stablecoin's accessibility, PayPal USD will be issued on the Ethereum blockchain, opening up the doors to a vast community of external developers, web3 applications, and wallets. In an effort to further extend its reach, PayPal has revealed its plans to introduce the stablecoin on its renowned social payment service, Venmo, catering to a broader audience.
Also Read: KKR Announces Acquisition of PayPal Buy Now, Pay Later Loans Valued at Nearly $44 Billion