UAW Auto Workers Strike: Negotiations Intensify as Detroit Three Face Labor Standoff
The United Auto Workers strike intensified against Detroit Three. Demands for wages and job security escalate. Stay updated on the latest developments.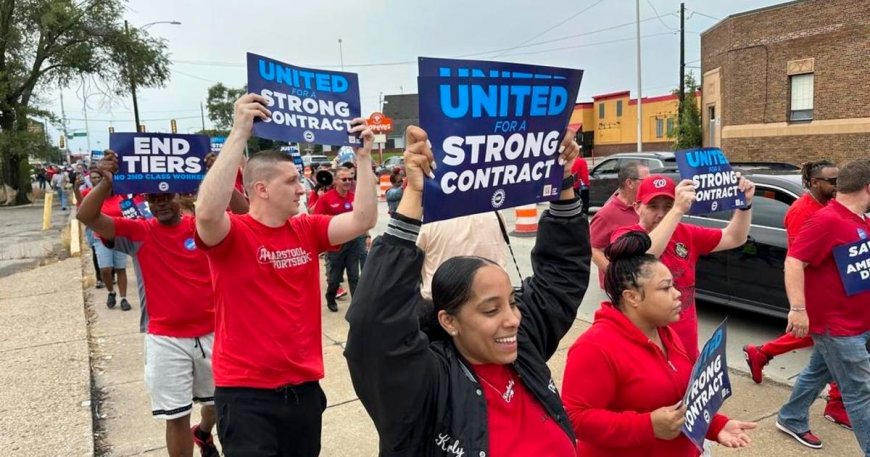 UAW Auto Workers Strike: Negotiations Intensify as Detroit Three Face Labor Standoff
The strike led by the United Auto Workers against the Detroit Three automakers is about to enter its third day with no immediate resolution in sight.
Over the weekend, the United Auto Workers and Ford Motor negotiators engaged in "reasonably productive discussions" towards a new contract, according to the union. Meanwhile, Stellantis, the parent company of Chrysler, announced an increase in their contract offer.
Approximately 12,700 UAW workers continue to strike as part of a concerted labor action aimed at three U.S. assembly plants - one each from the Detroit Three automakers, following the expiration of the previous four-year labor agreements at 11:59 p.m. ET on Thursday.
Negotiators from the union and representatives of General Motors, Ford, and Stellantis resumed discussions on Saturday, a day after the UAW launched one of the most ambitious industrial labor actions in the U.S. in decades.
Stellantis confirmed that main bargaining talks are scheduled to resume on Monday, with some subcommittee negotiations planned for Sunday at General Motors. UAW President Shawn Fain is set to appear on two national news programs Sunday.
On Saturday, Stellantis announced an enhanced offer, suggesting raises of 20% over a four-and-a-half-year contract term, including an immediate 10% increase. This mirrors proposals from GM and Ford.
These proposals represent about half of the 40% wage hike that the UAW is advocating for through 2027, which includes an immediate 20% boost.
Mark Stewart, the North American Chief Operating Officer for Stellantis, informed reporters on Saturday that the UAW rejected a proposal to restart operations at an assembly plant in Belvidere, Illinois. He noted that their offer had been conditional on reaching an agreement before the contract expiration.
In late February, Stellantis indefinitely halted operations at the Belvidere plant, citing rising costs of electric vehicle production.
The UAW criticized the company's stance on the Illinois plant, stating, "they are now taking it back. That's how they see these workers. A bargaining chip."
Stellantis stated late Saturday that they are willing to engage in negotiations regarding the plant's future. "The truth is UAW leadership ignored Belvidere in favor of a strike," the company asserted.
These strikes have resulted in the cessation of production at three plants in Michigan, Ohio, and Missouri that manufacture popular models like the Ford Bronco, Jeep Wrangler, and Chevrolet Colorado.
On Friday, Ford announced indefinite layoffs of 600 workers at a Michigan plant due to the impact of the strike. This facility manufactures the Bronco. Additionally, GM informed approximately 2,000 workers at a Kansas car plant that their factory is likely to be shut down on Monday or Tuesday due to a shortage of parts, stemming from the strike at a GM Missouri plant.
In addition to increased wages, the UAW is calling for shorter work weeks, the reinstatement of defined benefit pensions, and stronger job security as automakers transition to electric vehicles.
Also Read: Hollywood Labor Dispute: Drew Barrymore's Show Returns Amid Controversy