Big Tech's $2 Trillion Boost Lifts Nasdaq to 15-Month High, Defying Worries
Tech Titans Propel Nasdaq to Record High: A $2 Trillion Turnaround Defies Skepticism.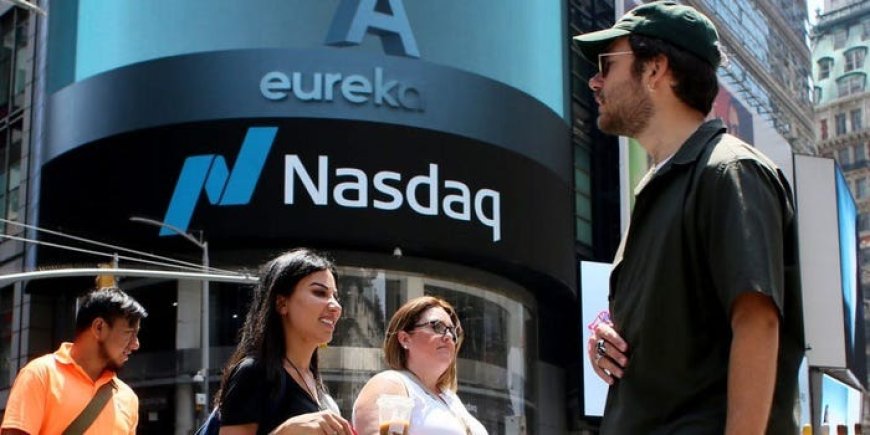 Big Tech's $2 Trillion Boost Lifts Nasdaq to 15-Month High, Defying Worries
the Nasdaq 100 Stock Index bounced back from a potential problem in just three weeks, thanks to Big Tech's powerful $2 trillion rally. Investors decided to stick with what's been working all year – putting more money into the biggest tech stocks.
This rally has given the Nasdaq a sudden U-turn, going from a possible downturn to reaching a 15-month high. Along the way, it added about $2 trillion to its total value.
Even though some big tech companies, like Apple and Meta Platforms Inc., gave less optimistic forecasts for the future, investors didn't let that stop them. They kept buying, pushing the market higher.
Experts are hopeful that giants like Microsoft and Apple will lead the market up in the last six weeks of the year. Despite concerns that the tech companies are already valued very high, investors seem to believe there's more room for growth.
Jason Benowitz, who manages investments at CI Roosevelt, said, "Some tech giants are doing much better than the rest of the market. We have to see if the others catch up and how that might happen. But I'm not worried about it happening soon."
Investors are optimistic because signs suggest that the Federal Reserve might stop raising interest rates. Also, the demand for artificial intelligence services is helping companies like Nvidia Corp. do well.
For example, Microsoft's cloud-computing business got a boost from customers using products from ChatGPT-owner OpenAI. This helped Microsoft's stock reach a record high, almost hitting a $3 trillion value.
While the Nasdaq 100 is priced at 24 times what experts expect it to earn, down from a high of 27 times in July, it's still considered quite high. Companies like Microsoft, Amazon, and Apple have even higher price-to-earnings ratios.
Although there are questions about how long this rally will last, investors are now looking at Nvidia, a company set to report its earnings soon. Wall Street expects another strong report, but there's a risk it might not meet those high expectations.
Investors want to see how new restrictions on exporting chips from the US might affect Nvidia. This is happening at a time when the US and China are in a tech battle, impacting companies like Alibaba.
Despite challenges, Big Tech's earnings are looking good enough to ease worries about high valuations, according to Anastasia Amoroso, Chief Investment Strategist at iCapital. She thinks Nvidia, with its over 200% surge this year, might seem expensive, but when you look at the bigger picture, it's not too extreme.
Other Tech News:
Applied Materials Inc., the biggest US chipmaking machinery maker, is being investigated for breaking export rules to China.

Apple is having a tough time making a new chip for the iPhone, partly because it's complex to replace a part from Qualcomm Inc.

Alibaba changed plans to spin off its $11 billion cloud business amid the US-China tech battle.

Alphabet Inc. CEO Sundar Pichai thinks China will lead in artificial intelligence and says it's crucial for the US and China to work together.

IBM stopped advertising on X (formerly Twitter) after its ads were found near posts supporting Nazi ideas.
Also Read: Stock Market Update: Target Surges on Earnings Beat, Fueling Another Stock Rally